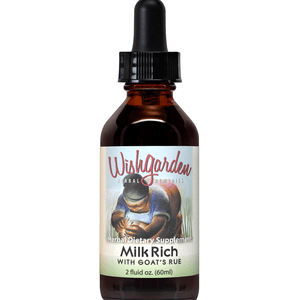 WishGarden Herbs' Milk Rich is a nutrient rich formula that is great for breastfeeding moms and their nursing children. This lovingly prepared blend of nourishing herbs promotes healthy breast milk while supporting a healthy volume of milk. WishGarden Herbs has been a trusted source for health and wellness in pregnancy, motherhood, and childbirth for over 30 years.
KEY ATTRIBUTES
Supports volume and quality of breast milk.*
Herbs recommended by lactation specialists.*
Non-GMO and gluten-free.*
---
GENERAL USE
2-3 droppers full in water for taste, 2-4 times a day, or as advised.
INGREDIENTS
Raspberry leaf
(Rubus idaeus)
, Goat's Rue aerials
(Galega officinalis)
, Fenugreek seed
(Trigonella foenum-graecum)
, Fennel seed
(Foeniculum vulgare)
, Nettle leaf
(Urtica dioica)
, Blessed Thistle aerials
(Cnicus benedictus)
OTHER INGREDIENTS
Vegetable glycerine, Rocky Mountain artesian spring water & 190 proof organic wheat grain alcohol.