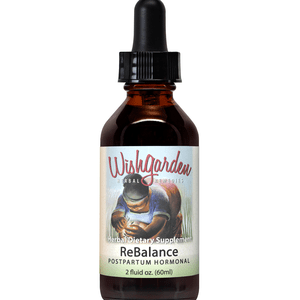 Hormonal fluctuations are normal in the first 6-8 weeks after birth as the body transitions from pregnancy into motherhood. WishGarden's ReBalance formula is lovingly made to support healthy hormone levels and a sense of well-being after birth.
KEY ATTRIBUTES
Support for healthy hormones.*
Balancing for the new mother.*
Non-GMO and gluten-free.*
---
GENERAL USE
2-3 droppers full in water for taste, 2-3 times a day as a tonic.
INGREDIENTS
Black Haw bark
(Viburnum prunifolium)
, Calendula flower
(Calendula officinalis)
, Lady's Mantle aerials
(Alchemilla vulgaris, A. xanthochlora)
, Motherwort aerials
(Leonurus cardiaca)
, St John's Wort aerials
(Hypericum perforatum)
, Vitex berry
(Vitex agnus-castus)
, Burdock root
(Arctium lappa)
, Yarrow aerials
(Achillea millefolium)
OTHER INGREDIENTS
Rocky Mountain artesian spring water, 190 proof organic wheat grain alcohol & vegetable glycerine.
* These statements have not been evaluated by the Food & Drug Administration. This product is not intended to diagnose, treat, cure or prevent any disease.