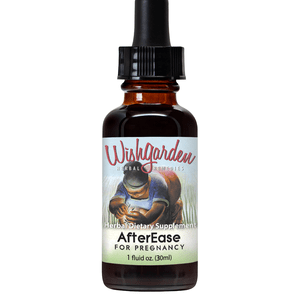 Afterbirth contractions become common the more times a woman has given birth. WishGarden Herbs' AfterEase has been lovingly formulated by the wise women at WishGarden to soothe normal and temporary afterbirth contractions. With 30+ years' experience making herbal formulations for pregnancy and child bearing, WishGarden Herbs has a long track record of helping moms, naturally.
KEY ATTRIBUTES
Calm, support and relax the body after birth.*
Traditional herbs for postpartum care.*
Non-GMO and gluten-free.*
---
GENERAL USE
2-4 droppers full in water. Repeat if needed.
INGREDIENTS
Crampbark
(Viburnum opulus)
, Black Haw bark
(Viburnum prunifolium)
, Yarrow aerials
(Achillea millefolium)
, Motherwort aerials
(Leonurus cardiaca)
OTHER INGREDIENTS
Rocky Mountain artesian spring water, vegetable glycerine & 190 proof organic wheat grain alcohol.