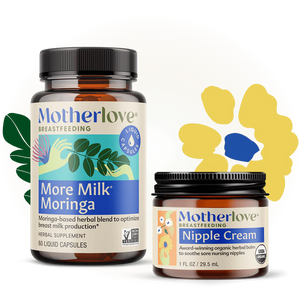 Bundle and save on Motherlove's breastfeeding essentials.
More Milk Moringa 60ct, Nipple Cream 1oz. 
More milk is a moringa- based herbal blend to optimize breast milk supply. This concentrated liquid extract delivers a potent combination of milk-making herbs-moringa, blessed thistle, nettle, and fennel-in a convenient vegan capsule. Trusted by lactation consultants. 
More Milk Moringa is formulated for moms who want to support their milk supply, are pumping, want to increase their freezer stash, or are sensitive to fenugreek. 
Nipple Cream is an award-winning organic herbal balm to soothe sore nursing nipples and make pumping more comfortable. Sore nipples don't have to stop moms in their tracks. 
This nipple balm can be used to soothe  sore nipples, lubricate pump flanges, and moisturize nips, lips, and hands.