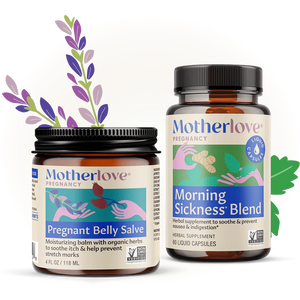 Bundle and save for support through every trimester. 
Morning sickness Blend: 
morning sickness Blend is an herbal supplement to soothe and provide relief during pregnancy. the blend was formulated especially for pregnant moms experiencing morning sickness. 
Morning Sickness Blend provides herbal support for:
Soothing nausea

Easing indigestion

Use during pregnancy or anytime
Pregnant Belly Salve:

Pregnant Belly Salve is a moisturizing balm with organic herbs to nourish and soothe stretching skin.

Pregnant Belly Salve is perfect to:
Help prevent stretch marks

Soothe itchy, growing belly

Use on breasts & hips, too
Motherlove is a Certified Women-Owned B Corp that not only empowers new moms, but also Mother Earth, through our sustainable practices.